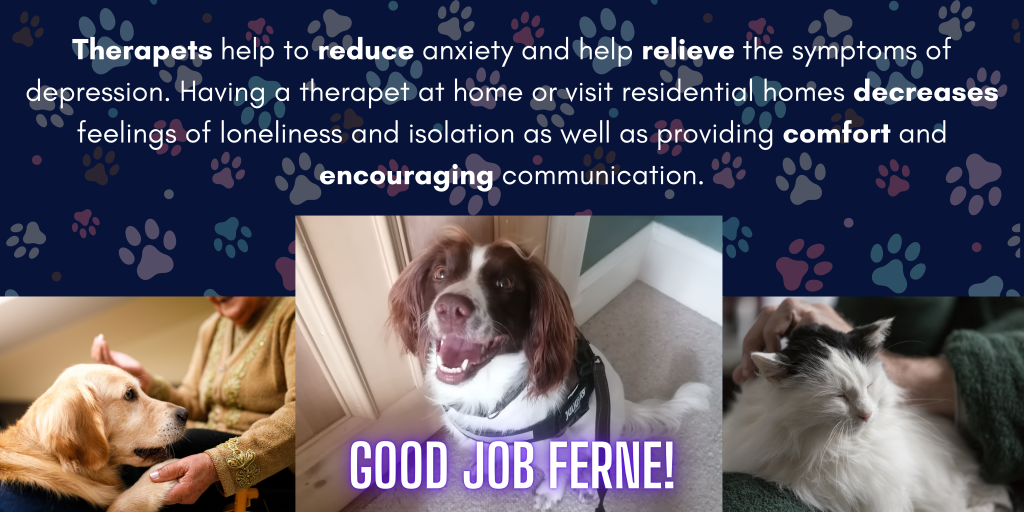 What is a therapy pet?
Therapy pets help to reduce anxiety and feelings of isolation and loneliness, as well as providing comfort and encouraging communication. They are used in care homes, nursing homes and hospitals.
Ferne's story
Since puppyhood, Ferne was drawn to the older generation. A wagging tail, bright eyes and that famous smile made her a big hit with elderly friends, relatives and neighbours of her human mom, Siker's Head of Academy, Anne Wheatley.
Becoming a therapy pet with Scottish Charity Therapets, seemed a natural progression. At the tender age of two, she passed her 'Therapet' assessment with flying colours and began visiting Murrayside Care Home in Edinburgh. Her gentle, affectionate nature and long-term training ensures that the residents get the best experience possible.
Every Wednesday, she makes the short walk from her home to Murrayside, where she is welcomed by the staff. After a quick debrief, she works the floors, meeting and spending time with the residents who are only too happy to see her.
She makes a huge difference to their lives. What a rewarding job she has.